Galuh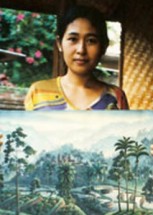 Gusti Agung Galuh (Bali)
Modern Walter Spies style

Born: Kapal, Tabanan, 9 December 1968.
1991 - 1996 Many joint exhibitions in Ubud, Denpasar, Nusa Dua
1993 Seniwati Gallery and ISWALI group exhibition, "Our World" Exhibition, Erasmus Huis, Jakarta
1995 Seniwati Gallery group exhibition, Media Park Sud, Cologne, Germany
1995 Ten-weeks as Artist in Residence, Media Park Sud, Cologne Germany
1996 Seniwati Gallery group exhibition, Museum Puri Lukisan, Ubud
1996 9 - 21 October Seniwati Gallery Exhibition at Bentara Budaya, Jakarta Ms Galuh is a dedicated and meticulous painter and although she produces very few paintings per year—her work is worth the wait. Galuh's work represents landscapes of jungles and terraced rice paddies in early morning light. While she is a meticulous artist, her paintings are by no means hyper realistic, rather, Galuh interprets the harmonious symmetry found in the verticality of giant coconut trees and the regular contour lines of the terraces, all of this, surrounded by the wildness of Balinese nature.