I Gusti Made Baret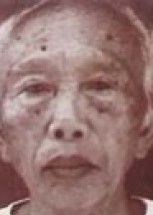 He is among on of Balinese prominent painters who continues producing his works for over than five decades. He was born in Pengosekan, Ubud, in 1920. His educational background dated from the Dutch Colonial elementary school. He received various awards, including Karya Agung Eka Dasa Rudra Award during the exhibition in the Art Centre Denpasar in 1979, art awards during the Bali Art Festival and Wija Kusuma Medal in 1993.

Baret is a member of Pita Maha prior to the year of 1940. He was once a dancer for Sekehe Arja Peliatan in 1962. Along side the Pita Maha group, his works often exhibited in Bali, while other were displayed in Jakarta, Australia, Japan and German. Several of his works collected bymuseums in Ubud, Art Center and Bali Museum in Denpasar. He also serves as a Pemangku (high priest) in Pura Pengosekan.

Since elementary school, Baret had shown a particular interest in painting. At first, he illustrated landscapes. Later he painted various scenes from the fragments of Rajapala story for instance. At the end, he painted pewayangan theme illustrating stories from the epic Ramayana and Mahabhrata. Baret accepted Rudolf Bonnet's guidance. He married Gusti Putu Oka but has no children. She is the sister of the famous I Gusti Ketut Kobot.

The book  of Profil Seniman Gianyar (1996) stated that, "for Baret completing a painting is not done within any time frame, but continuous work until the canvas he was working on ran out of space for his drawing. That is why, often times, it took him years to complete a painting."